Asian Vegetable Noodles with Spicy Peanut Sauce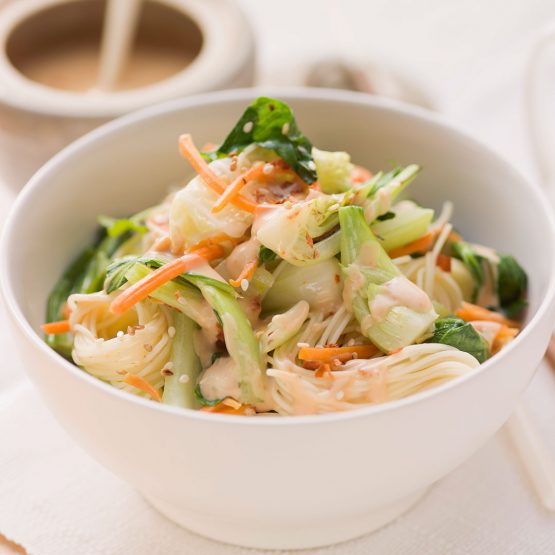 Cooking Times
Ingredients
2 cups

Cal-Organic baby bok choy

2 cups

Cal-Organic green cabbage

3

Cal-Organic green onions

8 oz.

angel hair pasta

3 tbsp.

sesame oil

2 tsp.

rice wine vinegar

1 tsp.

salt

1 tsp.

ground ginger

1/4 cup creamy

peanut butter

1/4 cup

half and half

2 tbsp.

hot sauce

Cal-Organic cilantro, for garnish

Sesame seeds, for garnish

Crushed red pepper, for garnish
Directions
Chop bok choy and cabbage, then dice the green onions.
Bring a large pot of water to boil and cook the pasta. Drain and set aside.
Meanwhile, in a skillet, heat 1 tbsp. sesame oil over medium heat. Toss in the bok choy, cabbage, carrots, green onion, salt, ginger and 1 tsp. rice wine vinegar. Sauté, tossing frequently until the vegetables are slightly wilted, about 5 minutes. Set aside.
Make the peanut sauce by combining peanut butter, half and half, hot sauce, 1 tsp. rice wine vinegar and 2 tbsp. sesame oil in a small sauce pot. Stir until well combined.
To assemble the dish, toss the cooked pasta in a large mixing bowl with the sautéed vegetables. Add the peanut sauce and toss well until combined. Serve either warm or refrigerate and serve chilled. Garnish each serving with sesame seeds, crushed red pepper and chopped cilantro.
Tips for storing carrots
1

Containers

Store carrots in a resealable plastic bag or other airtight container.

2

Shelf Life

To extend the shelf life of your carrots, you can place a damp paper towel in the bag or container, but avoid storing carrots in water as it will soften their texture.

3

Temperature

Carrots should be stored in the refrigerator between 34 and 36 degrees Fahrenheit.

4

Avoid Ethylene

Avoid storing carrots near ethylene-producing fruits and vegetables, such as apples or pears.
Sorry
We didn't find any recipes matching that description. Please try removing a search term or rewording your search phrases.