Carrot & Potato Galette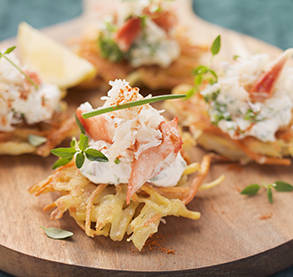 Cooking Times
Ingredients
2 cups peeled & shredded

Cal-Organic Red Potatoes

3 tbsp. clarified

butter

Pinch

paprika

Squeeze of

lemon juice

8 oz. jumbo lump

crab meat

4 sprigs, fresh

thyme

2 tbsp. fresh, minced

chives

1 minced,

shallot

1 cup

crème fraiche
Directions
Preheat oven to 425 degrees Fahrenheit.
Toss shredded carrots and shredded potatoes with 2 tbsp. of clarified butter. Season with salt and pepper.
Heat a heavy non-stick sauté pan over high heat until nearly smoking. Lightly butter pan with some of the remaining clarified butter. Add some of the carrot mixture to the pan and shape into pancakes. Cook for 1-2 minutes on high heat and then reduce heat. Sauté until golden brown.
When galette starts to shake free from pan, flip galette over and lightly brown on the other side. Repeat until all of the galettes are cooked.
Wrap galettes in foil and place in preheated oven to keep warm.
Prepare herbed crème fraiche:
Mix together crème fraiche, shallots, chives, thyme, lemon juice, salt and pepper.
To serve:
Place warm galette on plate.
Spread a dollop of crème fraiche on galette.
Top crème fraiche with jumbo lump crab meat.
Squeeze a bit of lemon juice on crab and lightly sprinkle with paprika.
Tips for storing carrots
1

Containers

Store carrots in a resealable plastic bag or other airtight container.

2

Shelf Life

To extend the shelf life of your carrots, you can place a damp paper towel in the bag or container, but avoid storing carrots in water as it will soften their texture.

3

Temperature

Carrots should be stored in the refrigerator between 34 and 36 degrees Fahrenheit.

4

Avoid Ethylene

Avoid storing carrots near ethylene-producing fruits and vegetables, such as apples or pears.
Sorry
We didn't find any recipes matching that description. Please try removing a search term or rewording your search phrases.