Cauliflower, Carrots & Zucchini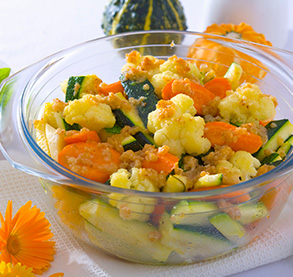 Slow Cooker Recipe
Cooking Times
Ingredients
2 medium

Cal-Organic Bunch Carrots

1 medium head

Cal-Organic cauliflower

1 small

Cal-Organic yellow onions

1 tsp.

olive oil

2 medium

zucchini

1 tbsp.

ginger root, peeled and grated

3 cloves

garlic, minced

1 1/2 cup

vegetable stock

2 tsp.

kosher salt

1/2 tsp.

black pepper

1/2 tsp.

curry powder (optional)

1/8 tsp.

cayenne pepper (optional)
Directions
Turn the slow cooker to high. Peel and dice bunch carrots, dice yellow onions and cut cauliflower into florets. Julienne the zucchini.
Add all of the ingredients to the slow cooker and season with spices. Stir once to combine. The liquid should come about half way up the sides of the bowl; add more stock as necessary. Cover and cook for 2 hours on high.
Check the vegetables after 2 hours and cook longer for a softer texture. When ready to serve, drain the remaining vegetable stock and serve warm.
Recipe and image from our e-book Hearty Slow Cooker Recipes
Tips for storing carrots
1

Containers

Store carrots in a resealable plastic bag or other airtight container.

2

Shelf Life

To extend the shelf life of your carrots, you can place a damp paper towel in the bag or container, but avoid storing carrots in water as it will soften their texture.

3

Temperature

Carrots should be stored in the refrigerator between 34 and 36 degrees Fahrenheit.

4

Avoid Ethylene

Avoid storing carrots near ethylene-producing fruits and vegetables, such as apples or pears.
Sorry
We didn't find any recipes matching that description. Please try removing a search term or rewording your search phrases.