Chunky Vegetable Marinara with Fresh Arugula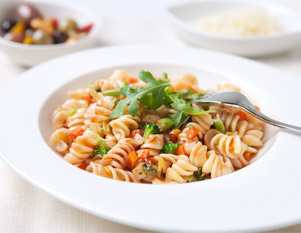 Cooking Times
Ingredients
12 oz.

rotini pasta

1 tbsp.

olive oil

1 cup, diced

Cal-Organic Fennel

3 cloves, minced

garlic

1 cup, cleaned and diced

Cal-Organic Leeks

1 cup, diced

Cal-Organic Table Carrots

1 cup stems and florets, diced

Cal-Organic Broccoli

1 tsp.

Italian seasoning

1/2 cup

red wine

1 (28 oz.) can

tomato sauce or salsa

10 oz.

Cal-Organic Arugula
Directions
Bring a large pot of salted water to a boil. Cook the pasta until al dente, about 10 minutes, then drain and set aside.
Meanwhile, heat the olive oil in a skillet. Add the fennel, garlic, leeks, carrots, broccoli and Italian seasoning and sauté for about 5 minutes, tossing frequently. Deglaze the pan with the red wine and scrape the bottom of the pan with a wooden spoon to incorporate all the flavor of the cooked vegetables. Stir in the tomato sauce or salsa and simmer for about 10 minutes.
Serve over the warm pasta and top with a handful of fresh arugula over each serving.
Tips for storing carrots
1

Containers

Store carrots in a resealable plastic bag or other airtight container.

2

Shelf Life

To extend the shelf life of your carrots, you can place a damp paper towel in the bag or container, but avoid storing carrots in water as it will soften their texture.

3

Temperature

Carrots should be stored in the refrigerator between 34 and 36 degrees Fahrenheit.

4

Avoid Ethylene

Avoid storing carrots near ethylene-producing fruits and vegetables, such as apples or pears.
Sorry
We didn't find any recipes matching that description. Please try removing a search term or rewording your search phrases.