Fettuccine Carrotini with Sauteed Scallops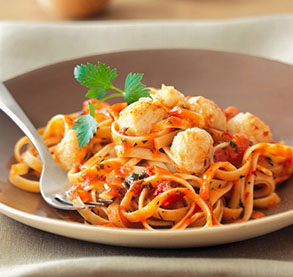 Cooking Times
Ingredients
8 tbsp. divided,

butter

1/4 cup minced

Cal-Organic Red Onions

1/4 cup minced

Cal-Organic Celery

2 cups diced

tomato

1 (16 oz.) can

tomato sauce

1/4 tsp. dried

oregano

1/4 tsp. minced

garlic

1 tsp.

sugar

to taste

Salt

to taste

Freshly ground black pepper

8 cups

water

8 oz.

fettuccine noodles

1/2 cup fresh, minced

Cal-Organic Italian Parsley

1/2 cup grated sharp

cheese

2 lb.

scallops

4 tbsp.

butter

2 cloves, peeled and pressed

garlic

2 tbsp. fresh squeezed

lemon juice, or to taste
Directions
In a medium saucepan melt the 2 tablespoons of butter and saute the onions, celery and carrots until they are soft. Stir in the diced tomato, tomato sauce, oregano, and garlic. Blend them well and bring them to a boil. Add the sugar, and salt & pepper to taste.
Reduce the heat, cover the pan and simmer, stirring occasionally, for at least 30 minutes. If the sauce gets too thick, add a little water.
Meanwhile, get the pasta ready by bringing eight cups of water to boil in a large saucepan, add salt to taste, and prepare the noodles according to package directions. When the noodles are at the al dente stage, drain and return them to the pan, then gently toss with the remaining butter and parsley  to coat. If you have to keep them warm for a few minutes while you wait for the sauce, set the saucepan in a large container with a little hot water in it and set on low heat.
When the sauce is ready, divide the pasta among serving plates. Spoon the sauce over the top and sprinkle with grated cheese. Top with sauteed scallops and garnish with fresh parsley. Serve at once.
For Sauteed Scallops:
Rinse scallops and pat dry with paper towels.
Melt butter in a large skillet set over medium-high heat. Stir in garlic, and cook for a few seconds until fragrant. Add scallops, and cook for several minutes on one side, then turn over, and continue cooking until firm and opaque. Season to taste with lemon juice.
Divide scallops evenly among serving plate.
Recipe and image from our e-book Festive Holiday Recipes
Tips for storing carrots
1

Containers

Store carrots in a resealable plastic bag or other airtight container.

2

Shelf Life

To extend the shelf life of your carrots, you can place a damp paper towel in the bag or container, but avoid storing carrots in water as it will soften their texture.

3

Temperature

Carrots should be stored in the refrigerator between 34 and 36 degrees Fahrenheit.

4

Avoid Ethylene

Avoid storing carrots near ethylene-producing fruits and vegetables, such as apples or pears.
Sorry
We didn't find any recipes matching that description. Please try removing a search term or rewording your search phrases.