Grilled Scallops with Endive, Carrot & Pea Salad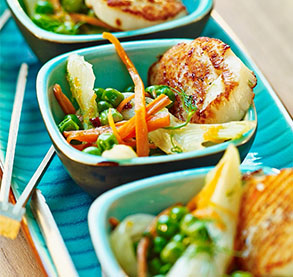 Cooking Times
Ingredients
1 lb.

scallops

1 head

Belgian endive

1/2 cup

olive oil

2 oz.

lime juice

2 tbsp.

rice wine vinegar

1 tbsp.

olive oil

2 tsp.

agave nectar

1 tsp.

sesame oil

1 tsp.

soy sauce

1 cup

blanched peas

4 tbsp.

pea shoots

to taste

kosher salt

to taste

black pepper
Directions
Preheat grill on high. Cut endive into 1-inch pieces.
Place the scallops in a resealable plastic bag with olive oil, lime juice, salt, and pepper. Seal and set aside to marinate for at least 10 minutes.
Whisk together the vinegar, olive oil, agave, sesame oil, and soy sauce in a small bowl.
Combine the carrots, peas, endive, and pea shoots in a large bowl. Pour the dressing over the salad and toss gently to combine. Set aside.
Remove the scallops from the marinade and place on the hot grill. Cook, completely undisturbed, for 3 minutes. Carefully turn them over and cook, undisturbed, another 2 – 3 minutes. Remove the cooked scallops from the heat.
Divide the salad and scallops equally between serving plates and serve.
Recipe and image from our e-book Summer Salads & Backyard BBQ
Tips for storing carrots
1

Containers

Store carrots in a resealable plastic bag or other airtight container.

2

Shelf Life

To extend the shelf life of your carrots, you can place a damp paper towel in the bag or container, but avoid storing carrots in water as it will soften their texture.

3

Temperature

Carrots should be stored in the refrigerator between 34 and 36 degrees Fahrenheit.

4

Avoid Ethylene

Avoid storing carrots near ethylene-producing fruits and vegetables, such as apples or pears.
Sorry
We didn't find any recipes matching that description. Please try removing a search term or rewording your search phrases.