Korean Style Rice Bowl with Mustard Greens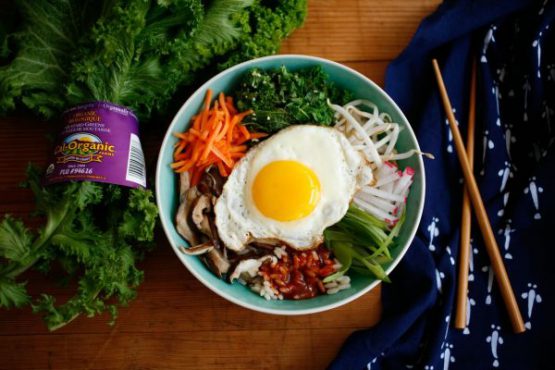 Cooking Times
Ingredients
1 bunch, stemmed and ribboned

Cal-Organic Mustard Greens

4-5, matchstick sliced

Cal-Organic Red Radishes

2 cups

Cal-Organic Shredded Carrots

4, thinly sliced

Cal-Organic Green Onions

1 lb. thinly sliced

shiitake mushrooms

4 cups

cooked brown or white rice, warm

4 runny, fried

eggs

2 cloves, minced

garlic

2 cups

bean sprouts

2 tbsp. divided

rice vinegar

2 tbsp.

soy sauce

2 tbsp.

vegetable oil

1 tsp.

sesame seeds

1/4 cup

gochujang, or favorite hot sauce
Directions
In a large skillet over medium-high heat, heat 1 tablespoon of oil then add greens, in batches if necessary until it is wilted, about 5-6 minutes. Add garlic and cook for 2 more minutes. Remove from heat and stir in 1 tablespoon rice vinegar and sesame seeds. Remove to a bowl and set aside.
Wipe out skillet, place over high heat, then add remaining oil and heat until shimmering. Add mushrooms and cook, stirring occasionally until softened and starting to brown around the edges. Remove to a bowl and set aside.
In a small bowl, whisk together gochujang, soy and remaining vinegar.
Divide rice, toppings and sauce between four bowls. Add toppings and sauce to each in stripes, with a fried egg in the middle. Stir all together incorporating the sauce and egg yolk to coat the toppings and rice before eating.
Tips for storing carrots
1

Containers

Store carrots in a resealable plastic bag or other airtight container.

2

Shelf Life

To extend the shelf life of your carrots, you can place a damp paper towel in the bag or container, but avoid storing carrots in water as it will soften their texture.

3

Temperature

Carrots should be stored in the refrigerator between 34 and 36 degrees Fahrenheit.

4

Avoid Ethylene

Avoid storing carrots near ethylene-producing fruits and vegetables, such as apples or pears.
Sorry
We didn't find any recipes matching that description. Please try removing a search term or rewording your search phrases.