Morning Glory Muffins with Greek Yogurt Cream Cheese Frosting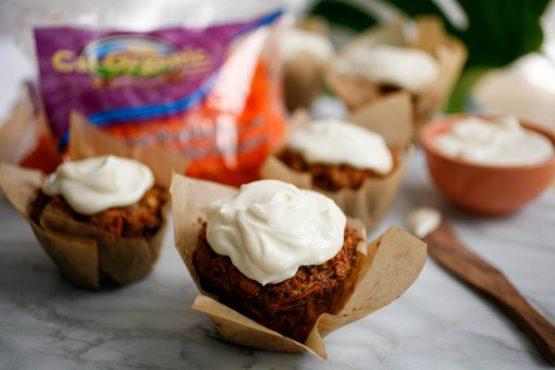 Cooking Times
Ingredients
2 cups

Cal-Organic Shredded Carrots

1 1/2 cups

whole wheat flour

1 cup

rolled oats

3/4 cup

brown sugar

2 tsp.

baking soda

1 tsp.

ground cinnamon

1/4 tsp.

ground nutmeg

1 tsp.

salt

1/3 cup

currants, golden raisins or other dried fruit

1/2 cup

unsweetened coconut flakes

1/2 cup

chopped walnuts

2 large

eggs

2/3 cup

vegetable oil

2

ripe bananas, mashed

1 tsp.

vanilla extract

6 jumbo or 12 regular

cupcake liners

8 oz.

softened cream cheese

1/4 cup

Greek yogurt

1 tsp.

vanilla extract

1 1/2 cups

powdered sugar
Directions
Preheat oven to 375 degrees Fahrenheit.
In a large bowl, whisk together flour, sugar, baking soda, cinnamon, nutmeg and salt.
Add carrots, raisins, coconut and walnuts into the flour mixture and toss until evenly distributed.
In a separate bowl, whisk together eggs, oil, bananas and vanilla. Pour the wet mixture into the dry and stir until just combined.
Add cupcake liners to cupcake pan, or spray pan with nonstick spray.
Scoop batter evenly into the cupcake liners, about ¾ full. Bake for 25-30 minutes for regular cupcakes or 35-40 minutes for jumbo cupcakes, or until golden brown on top and a tester comes out clean. Cool completely before frosting.
In a stand mixer, or with an electric mixer, beat together cream cheese, Greek yogurt and vanilla.
Slowly add powdered sugar a little at a time until it is all added and frosting is smooth.
Spread frosting onto muffins and serve.
Tips for storing carrots
1

Containers

Store carrots in a resealable plastic bag or other airtight container.

2

Shelf Life

To extend the shelf life of your carrots, you can place a damp paper towel in the bag or container, but avoid storing carrots in water as it will soften their texture.

3

Temperature

Carrots should be stored in the refrigerator between 34 and 36 degrees Fahrenheit.

4

Avoid Ethylene

Avoid storing carrots near ethylene-producing fruits and vegetables, such as apples or pears.
Sorry
We didn't find any recipes matching that description. Please try removing a search term or rewording your search phrases.