Rainbow Carrot Tart with Goat Cheese & Herbs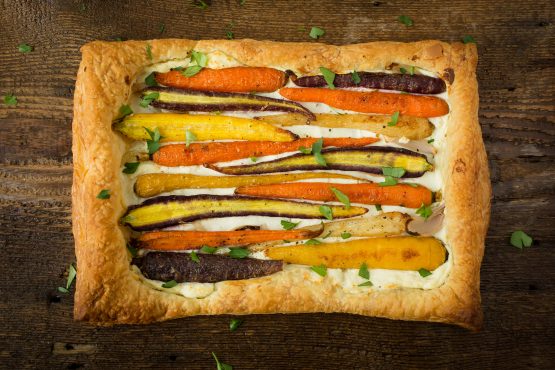 Cooking Times
Ingredients
1

shallot, peeled and halved

3

garlic cloves, unpeeled

3 tbsp.

olive oil

Kosher salt and freshly cracked black pepper

Pinch red pepper flakes

1 (8.65 oz.) package

puffed pastry, thawed

1 (4 oz.) log

goat cheese, room temperature

4 oz.

cream cheese, room temperature

2 tbsp. chopped

Cal-Organic Farms Italian parsley
Directions
Wash and scrub red carrots clean, then halve lengthwise.
Preheat the oven to 400 degrees Fahrenheit. Line two baking sheets with parchment.
Place the carrots, shallot and garlic on one baking sheet. Drizzle with 2 tablespoons olive oil and sprinkle with the thyme leaves, 1/2 teaspoon salt, 1/2 teaspoon freshly cracked black pepper and red pepper flakes. Toss so that everything is coated. Roast until vegetables are starting to soften and brown, about 20 minutes. Remove from the oven and let cool slightly.
While the carrots are roasting, roll out the puff pastry on a lightly floured work surface to a 12-inch by 9-inch rectangle, then place the rectangle on the other lined baking sheet. Brush the puff pastry with the remaining tablespoon of olive oil. Once the vegetables are cooked and slightly cooled, peel and crush the garlic and add it to a bowl with the cheeses and a pinch of salt; mix until completely combined. Spread the cheese mixture over the puff pastry, leaving a 1-inch border around the edge. Arrange the carrots and shallots lengthwise on top of the cheese mixture. Bake until the pastry is puffed and golden brown, 15-20 minutes.
Sprinkle with parsley, slice and serve warm or room temperature.
Tips for storing carrots
1

Containers

Store carrots in a resealable plastic bag or other airtight container.

2

Shelf Life

To extend the shelf life of your carrots, you can place a damp paper towel in the bag or container, but avoid storing carrots in water as it will soften their texture.

3

Temperature

Carrots should be stored in the refrigerator between 34 and 36 degrees Fahrenheit.

4

Avoid Ethylene

Avoid storing carrots near ethylene-producing fruits and vegetables, such as apples or pears.
Sorry
We didn't find any recipes matching that description. Please try removing a search term or rewording your search phrases.