Red Carrot & White Bean Salad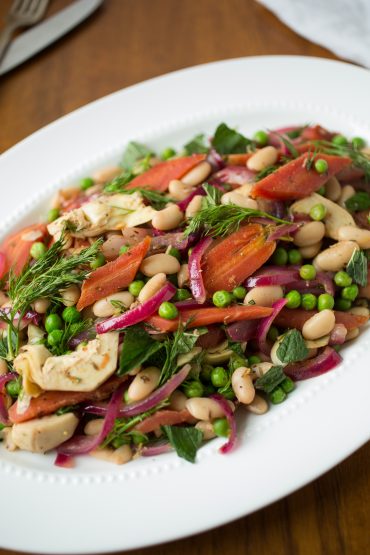 Cooking Times
Ingredients
1 tbsp.

olive oil

4 medium

Cal-Organic Red Bunch Carrots

1 tsp.

cumin seeds

1/2

Cal-Organic Farms red onion

2

garlic cloves, minced

2 tbsp.

red wine vinegar

1 lemon, juiced and zest

1 tsp.

honey

1/2 tsp.

kosher salt

1/2 tsp.

freshly cracked black pepper

1/4 tsp.

red pepper flakes

1 (15.5 oz.) can

cannellini beans, rinsed and drained

1 cup

frozen green peas, thawed

1 cup

jarred quartered artichoke hearts

1/4 cup

Cal-Organic Farms dill

2 tbsp.

mint leaves
Directions
Halve red carrots and cut into 1-inch pieces. Thinly slice red onion, roughly chop dill, and tear fresh mint leaves.
Heat a large skillet over medium-high heat, add olive oil, then carrots. Cook, tossing frequently until carrots start to brown, about 3 minutes, then add onions, garlic and cumin seeds. Stir constantly and cook until very aromatic, about 2 minutes.
Remove from the heat, stir in vinegar, lemon juice, zest, honey, salt, pepper and red pepper. Stir until all the vegetables are coated. Transfer to a large serving bowl. Add the beans, peas and artichoke hearts; toss until completely coated. Fold in half of the dill and mint, then sprinkle the rest on top. Serve immediately.
Tips for storing carrots
1

Containers

Store carrots in a resealable plastic bag or other airtight container.

2

Shelf Life

To extend the shelf life of your carrots, you can place a damp paper towel in the bag or container, but avoid storing carrots in water as it will soften their texture.

3

Temperature

Carrots should be stored in the refrigerator between 34 and 36 degrees Fahrenheit.

4

Avoid Ethylene

Avoid storing carrots near ethylene-producing fruits and vegetables, such as apples or pears.
Sorry
We didn't find any recipes matching that description. Please try removing a search term or rewording your search phrases.