Roasted Golden Beet Hummus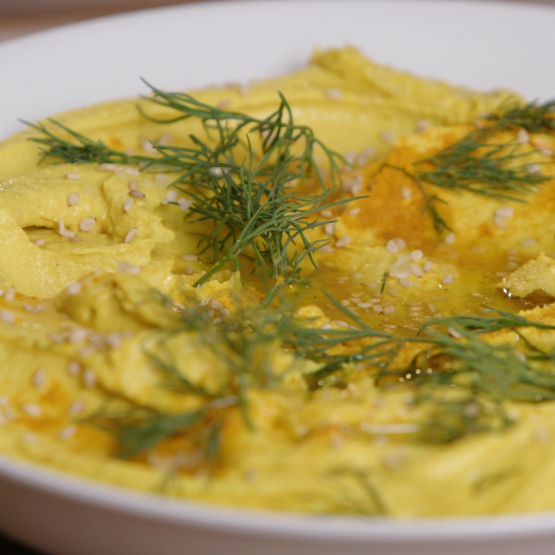 Cooking Times
Ingredients
1 large

Cal-Organic Farms gold beet

2 tbsp.

extra virgin olive oil, plus more for drizzling

15 oz. can

organic garbanzo beans, rinsed and drained

1/2 cup

tahini

1 large

lemon

2 cloves

garlic, grated on a microplane zester

1 1/2 tsp.

kosher salt

1 tsp.

cumin

1 1/2 tsp.

turmeric, plus more for sprinkling

2-4 tsp.

cold water

Sesame seeds, for sprinkling

Cal-Organic Farms dill

Cal-Organic Farms Easter egg radishes

Cal-Organic Farms fennel

Cal-Organic Farms green beans
Directions
Preheat oven to 400 degrees Fahrenheit.
Remove stem from beet and scrub root clean. Place the beet in foil and drizzle with 1 tbsp. extra virgin olive oil. Tightly wrap and then place on a small sheet tray for easy handling. Roast for 75-80 minutes or until easily pierced with a knife. Remove and let cool slightly.
While the beet cools, start removing the outer shell from the garbanzo beans by pinching the bean between your forefinger and thumb. Discard the shells and place the beans into a bowl.
Once the beet is cool enough to handle, peel off the skin and cut into medium chunks. Add to a large food processor or high-powered blender.
Pour the shelled beans into the food processor or blender along with the tahini, lemon juice, garlic, 1 tbsp. extra virgin olive oil, salt, cumin and turmeric. Blend until a chunky paste forms, starting and stopping the machine as needed to push down the mixture. Add 2 tbsp. of water and blend on high until smooth and creamy. Hummus should be loose but not runny. If it looks too thick, add 1 tbsp. of water at a time until desired consistency.
To serve, scoop the hummus into a shallow bowl and drizzle with extra virgin olive oil and a sprinkle of sesame seeds, dill fronds and turmeric. Serve with Cal-Organic rainbow carrot chips, sliced radishes, sliced fennel and green beans.
Recipe provided by Chef Megan Mitchell. 
Tips for storing carrots
1

Containers

Store carrots in a resealable plastic bag or other airtight container.

2

Shelf Life

To extend the shelf life of your carrots, you can place a damp paper towel in the bag or container, but avoid storing carrots in water as it will soften their texture.

3

Temperature

Carrots should be stored in the refrigerator between 34 and 36 degrees Fahrenheit.

4

Avoid Ethylene

Avoid storing carrots near ethylene-producing fruits and vegetables, such as apples or pears.
Sorry
We didn't find any recipes matching that description. Please try removing a search term or rewording your search phrases.