Roasted Rainbow Carrot & Tofu Tacos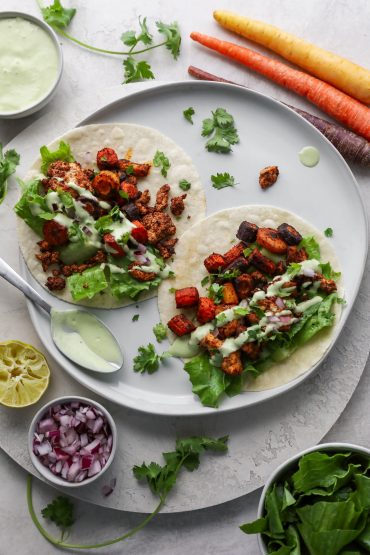 Cooking Times
Ingredients
16 oz

block extra-firm tofu

1 tbsp

coconut aminos

2 1/2 tsp

chili powder

1/2 tbsp

nutritional yeast

1 tsp

avocado oil

1/2 tsp

cumin

1/2 tsp

paprika

1 cup

unsweetened plant-based yogurt

Handful of

Cal-Organic Farms Cilantro

1 tbsp

lime juice

1/4 tsp

Himalayan sea salt

8

soft taco shells

1 head

Cal-Organic Farms Green Romaine Lettuce

1

Cal-Organic Farms Red Onion
Directions
1. Preheat the oven to 400°F and line a baking sheet with parchment paper. Drain and rinse the tofu, then cut into small squares. Add the tofu squares to a small mixing bowl with the coconut aminos, 1 1/2 tsp chili powder, and nutritional yeast. Stir to coat the tofu in the seasonings.
2. Add the tofu to the parchment lined baking sheet in an even layer. Then bake for 30 minutes, or until the tofu is slightly browned on the edges and firm to the touch. Set aside.
3. Prepare the rainbow whole carrots by peeling and chopping into small pieces. Line another baking sheet with parchment paper and add the diced carrots. Drizzle the carrots with the avocado oil and sprinkle with cumin, paprika, and 1 tsp chili powder. Toss them to coat the carrots in the oil and seasonings.
4. Transfer the baking sheet to the oven and bake for 30-40 minutes, or until they're fork tender and slightly charred on the outside. 
5. To make the cilantro yogurt sauce, add the yogurt, cilantro, lime juice, and sea salt to a high-speed blender or food processor. Process on high until it's smooth and creamy. Refrigerate until it's ready to serve. 
6. To assemble the tacos, heat tortillas on the stovetop in a pan over high heat for 10-15 seconds on each side. Wash and chop the romaine lettuce and dice the red onion. Transfer the warm tortillas to a plate and fill them with the carrots, tofu, romaine lettuce, red onion, and any other toppings you'd like. Drizzle them with a big spoonful of cilantro yogurt sauce and serve immediately.
7. Store leftovers separately in an airtight container in the refrigerator for up to 5 days and reheat and recombine before serving. Enjoy!
Recipe courtesy of Flora & Vino
Tips for storing carrots
1

Containers

Store carrots in a resealable plastic bag or other airtight container.

2

Shelf Life

To extend the shelf life of your carrots, you can place a damp paper towel in the bag or container, but avoid storing carrots in water as it will soften their texture.

3

Temperature

Carrots should be stored in the refrigerator between 34 and 36 degrees Fahrenheit.

4

Avoid Ethylene

Avoid storing carrots near ethylene-producing fruits and vegetables, such as apples or pears.
Sorry
We didn't find any recipes matching that description. Please try removing a search term or rewording your search phrases.