Roasted Root Vegetable Soup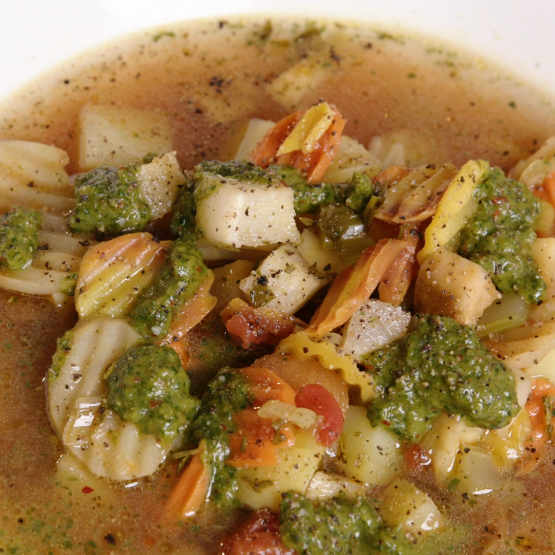 Cooking Times
Ingredients
2 large or 3 small

Cal-Organic Farms parsnips

1 large

Cal-Organic Farms turnip

1 large

Cal-Organic Farms rutabaga

1, 12-ounce bag

Cal-Organic Rainbow Carrot Chips

1 1/2 pounds

Cal-Organic Farms gold potatoes

4

Cal-Organic Farms green onions

3 stalks

Cal-Organic Farms celery

2 tbsp.

extra virgin olive oil, for drizzling

1 tbsp.

finely minced rosemary

2 cloves

garlic, minced or finely grated

8 cups

organic vegetable stock, low sodium

1, 14.5 oz. can

diced tomatoes

3

bay leaves

Salt and pepper, to taste

Vegan pesto or herb oil, for drizzling

Rustic country bread, toasted for dipping
Directions
Preheat oven to 400 degrees Fahrenheit.
Scrub parsnips, turnip and rutabaga clean and cut into ½-inch pieces. Place the cubed parsnips, turnip and rutabaga on a large sheet tray and liberally drizzle with extra virgin olive oil. Sprinkle with rosemary, salt and pepper then toss to combine, making sure everything is coated. Spread out into a flat, even layer and roast for 40 minutes or until golden and tender.
While the veggies roast, thinly slice green onions and dice celery (¼-inch). Cut potatoes into ½-inch pieces. Bring a large dutch oven or soup pot up to heat over medium. Once hot add in 2-3 tbsp. extra virgin olive oil followed by green onions, celery and garlic. Sauté for 3-4 minutes or until the garlic is fragrant and the veggies begin to soften. Next add in the potatoes, vegetable stock, diced tomatoes, bay leaves and a large pinch of salt and pepper and stir. Bring to a simmer then reduce the heat to low, cover and cook for 15 minutes.
Remove the lid and carefully add in the roasted veggies and carrot chips. Stir together and taste for seasoning, adding more salt or pepper if needed. Let simmer on low, covered, for 15-20 minutes to allow the potatoes to continue to cook and the carrots to softly slightly.
To serve, ladle into a shallow bowl and drizzle with vegan pesto or herb oil. Serve with crusty bread for dipping.
Recipe produced by Chef Megan Mitchell. 
Tips for storing carrots
1

Containers

Store carrots in a resealable plastic bag or other airtight container.

2

Shelf Life

To extend the shelf life of your carrots, you can place a damp paper towel in the bag or container, but avoid storing carrots in water as it will soften their texture.

3

Temperature

Carrots should be stored in the refrigerator between 34 and 36 degrees Fahrenheit.

4

Avoid Ethylene

Avoid storing carrots near ethylene-producing fruits and vegetables, such as apples or pears.
Sorry
We didn't find any recipes matching that description. Please try removing a search term or rewording your search phrases.