Roasted Vegetable Ravioli Lasagna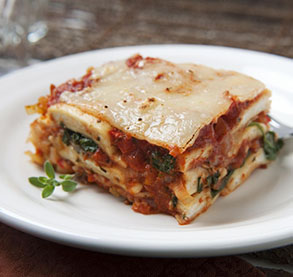 Cooking Times
Ingredients
1 finely diced

red pepper

1 diced

Cal-Organic Leeks

6 oz. diced

Cal-Organic Rainbow Bunch Carrots

1 cup, diced

Cal-Organic Red Onions

2 tbsp. divided,

olive oil

5 oz. fresh

Cal-Organic Spinach

1, 25 oz. bag frozen

cheese ravioli

3 cups

pasta sauce

8 oz. grated,

mozzarella cheese
Directions
Preheat oven to 350 degrees Fahrenheit. Place diced pepper, leek, carrots and red onion on a sheet pan and drizzle with 1 tablespoon olive oil, salt and pepper. Bake for 25 minutes.
Meanwhile, add the other tablespoon of olive oil to a skillet and heat over medium high. Add the spinach and toss in the oil until slightly wilted, about 3 minutes. Remove from heat and set aside.
After the vegetables have roasted, turn the oven up to 400 degrees Fahrenheit and begin to assemble the lasagna.
In an 8"x8" baking pan or casserole dish, begin by adding sauce, layer the frozen raviolis, half of the spinach, a quarter of the roasted vegetables and a quarter of the cheese and continue layering the sauce, ravioli, roasted vegetables and cheese three more times ending with cheese on top.
Bake for 30 minutes until sides begin to bubble.
Tips for storing carrots
1

Containers

Store carrots in a resealable plastic bag or other airtight container.

2

Shelf Life

To extend the shelf life of your carrots, you can place a damp paper towel in the bag or container, but avoid storing carrots in water as it will soften their texture.

3

Temperature

Carrots should be stored in the refrigerator between 34 and 36 degrees Fahrenheit.

4

Avoid Ethylene

Avoid storing carrots near ethylene-producing fruits and vegetables, such as apples or pears.
Sorry
We didn't find any recipes matching that description. Please try removing a search term or rewording your search phrases.