Spiced Carrot Cake Oatmeal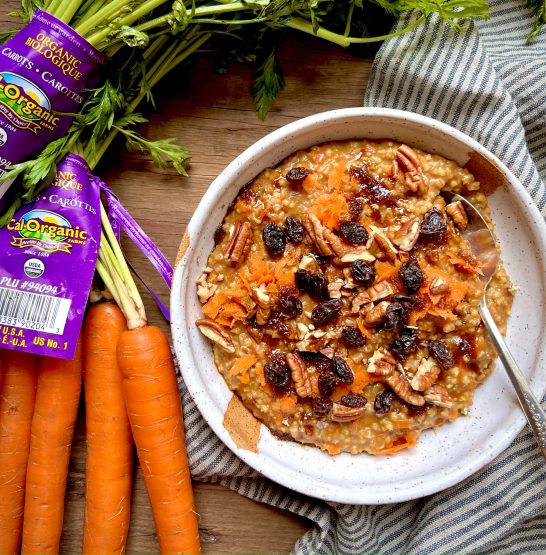 Cooking Times
Ingredients
3-4 medium

Cal-Organic Bagged Carrots

3 cups

unsweetened almond milk

2 cups

water

1/2 cup

dark brown sugar

2 1/2 tsp.

ground cinnamon

1/4 tsp.

ground cloves

1/4 tsp.

ground nutmeg

1 cup

steel cut oats

1/2 cup

whole grain millet*

2 tsp.

vanilla extract

Fine sea salt,

to taste

1 cup pecans or walnuts,

toasted and chopped, for sprinkling

1 cup raisins,

for sprinkling
Directions
Begin by grating your washed carrots on the large holes of a box grater. You need about 1 1/2 cups. Add to a medium saucepot along with the almond milk, water, brown sugar, cinnamon, ginger, cloves, nutmeg and salt. Whisk together then bring up to a boil on medium heat.
Next add in the oats and millet. Stir and reduce to a low simmer. Cook for 30-35 minutes or until thick, creamy and the oats are tender, stirring occasionally. If it's too thick and the oats aren't soft enough, add more water and cook until desired consistency.
Remove from heat and stir in the vanilla.
When ready, spoon into a bowl, top with more brown sugar, chopped pecans and raisins.
*Millet can be subbed with an extra 1/2 cup of oats
Recipe Courtesy of Megan Mitchell
Tips for storing carrots
1

Containers

Store carrots in a resealable plastic bag or other airtight container.

2

Shelf Life

To extend the shelf life of your carrots, you can place a damp paper towel in the bag or container, but avoid storing carrots in water as it will soften their texture.

3

Temperature

Carrots should be stored in the refrigerator between 34 and 36 degrees Fahrenheit.

4

Avoid Ethylene

Avoid storing carrots near ethylene-producing fruits and vegetables, such as apples or pears.
Sorry
We didn't find any recipes matching that description. Please try removing a search term or rewording your search phrases.