Summer Citrus Salad with Orange Vinaigrette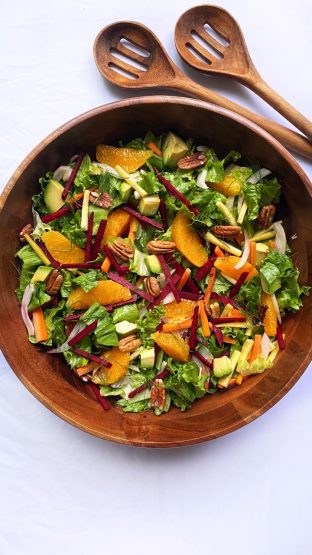 Cooking Times
Ingredients
1 head

Cal-Organic Green Leaf Lettuce

1 head

Cal-Organic Red Leaf Lettuce

3

navel oranges, supremed

1 bulb

Cal-Organic Red Beets

1 bulb & fronds,

Cal-Organic Fennel

1

avocado, diced

1/2 cup

shaved Pecorino or Manchego cheese

1 cup

candied nuts, walnuts or pecans

1/4 cup

orange juice

Zest of

1/2 orange

Juice of

1/2 lemon

1 tsp

Dijon mustard

1 tsp

honey

1

garlic clove, minced

1/4 tsp

salt

1/4 tsp

black pepper

1/4 cup

olive oil
Directions
Wash the lettuce heads and chop into 1-inch pieces. Wash the beet bulb and rainbow carrots and cut into thin slices.
Wash and cut the top stalks off the fennel bulb. Save some of the fronds. Slice the bulb very thinly.
To make pickled fennel, put the fennel slices in a wide mouth mason jar with a few fronds. In a saucepan bring water, vinegar, salt, sugar & peppercorns to a boil. Pour the mixture into the jar. Let cool at room temperature, then put the lid on and refrigerate, about 30 minutes.
To make the orange vinaigrette, combine the orange juice, orange zest, lemon juice, Dijon mustard, honey, garlic, salt, pepper and olive oil and mix thoroughly.
Add the lettuce, oranges, beet, pickled fennel, avocado, Pecorino cheese and candied nuts into a large salad bowl.
Pour the vinaigrette over the salad ingredients and gently toss. Garnish with fennel fronds and enjoy!
Recipe courtesy of Clovers & Kale
Tips for storing carrots
1

Containers

Store carrots in a resealable plastic bag or other airtight container.

2

Shelf Life

To extend the shelf life of your carrots, you can place a damp paper towel in the bag or container, but avoid storing carrots in water as it will soften their texture.

3

Temperature

Carrots should be stored in the refrigerator between 34 and 36 degrees Fahrenheit.

4

Avoid Ethylene

Avoid storing carrots near ethylene-producing fruits and vegetables, such as apples or pears.
Sorry
We didn't find any recipes matching that description. Please try removing a search term or rewording your search phrases.