Short Ribs and Long Carrots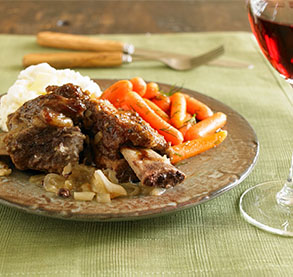 Cooking Times
Ingredients
8 - 12 with fat removed (3 - 4 inches long)

short ribs

1 tbsp.

olive oil

to taste

salt and pepper

1/2 tsp.

marjoram

1 tsp.

rosemary

1 cup

water

3 cups

Cal-Organic Baby Carrots

2 large peeled and sliced

Cal-Organic Red Onions

2 tbsp.

flour

4 tbsp.

water

1/2 cup dry

red wine

Finely chopped

Cal-Organic Dill

6

Cal-Organic Gold Potatoes

1/2 cup

warm milk or cream

3 tbsp.

butter
Directions
Preheat oven to 325 degrees Fahrenheit.
Trim any excess fat from the ribs. Rinse ribs under cold running water and pat dry with paper towels.
Heat the olive oil in a heavy oven-proof pan. Sear the short ribs, browning them well on all sides. Add salt and pepper, marjoram, rosemary, and one cup of water. Cover the pan and place it in the oven to roast until meat is tender, about one hour.
Remove the short ribs and set them aside. Cool the pan juices, chill, and remove all the fat that hardens and raises to the surface. In the meantime, trim as much fat as possible from the cooked short ribs.
Return the trimmed short ribs to the pan and place the baby carrots and onions on the top and around the sides. Cover the pan and roast until the vegetables are tender, about 45-60 minutes.
Remove the vegetables and the short ribs and arrange them on a serving platter or in a bowl. Keep them warm in the oven.
In a small mixing bowl, combine the flour with four tablespoons of water to make a smooth paste. Stir paste into boiling pan juices a little at a time. Stir or whisk constantly as the gravy cooks to keep lumps from forming, until it reaches the consistency of a light sauce. Stir in the dry red wine.
If you find you have added too much of the thickening paste, thin the sauce with a little water.
Adjust the seasonings to taste, pour the sauce over the short ribs and vegetables. Sprinkle with fresh dill and serve at once with mashed potatoes. (Gravy may be served on the side in a gravy boat.)
For Mashed Potatoes:
While the short ribs are cooking, prepare the mashed potatoes. Place quartered potatoes into a saucepan; cover potatoes with cold salted water. Put a lid on pan and bring water to a boil. Reduce heat and simmer for about 20 minutes, or until fork tender.
Drain potatoes. Add milk or cream and butter. Mash potatoes with a wire masher, or electric mixer until smooth and creamy. Season with salt and pepper. Serve with short ribs and carrots.
Recipe and image from our e-book Festive Holiday Recipes
Tips for storing carrots
1

Containers

Store carrots in a resealable plastic bag or other airtight container.

2

Shelf Life

To extend the shelf life of your carrots, you can place a damp paper towel in the bag or container, but avoid storing carrots in water as it will soften their texture.

3

Temperature

Carrots should be stored in the refrigerator between 34 and 36 degrees Fahrenheit.

4

Avoid Ethylene

Avoid storing carrots near ethylene-producing fruits and vegetables, such as apples or pears.
Sorry
We didn't find any recipes matching that description. Please try removing a search term or rewording your search phrases.